Happy Humpday! I survived my first exam and couldn't wait to focus on my nails. The bad news is, now I have cold :(
I'm not sure what it is but I always get sick around exam time. Maybe I'm just stressing out and not getting enough rest. Or maybe I caught a bug from my daughter. She started school also and came home sick.
So anyways, doing my nails is the only thing that would make me feel better. Today I'm sharing the blingest foil ever, lol. Gold Spectrum from dollar nail art. I wasn't sure how this would turn out, but it's not too shabby................. Ooooooooh wee, they sure are attention-getters. Just like holographic polishes its brighter in the sunlight and fluorescent light, so they really stood out in class. One of my male classmates even commented on them.
(indirect sunlight)

(indoors)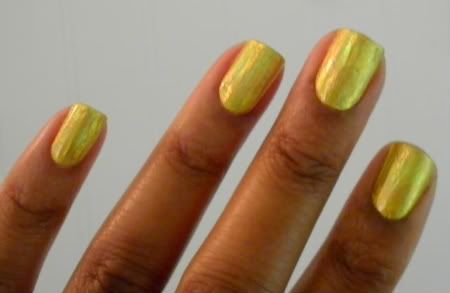 (sunlight! can you say bling-bling!!!)
I hope you all are having a wonderful week. It's 8:30 here and I'm about to lay it down. Until I polish again!