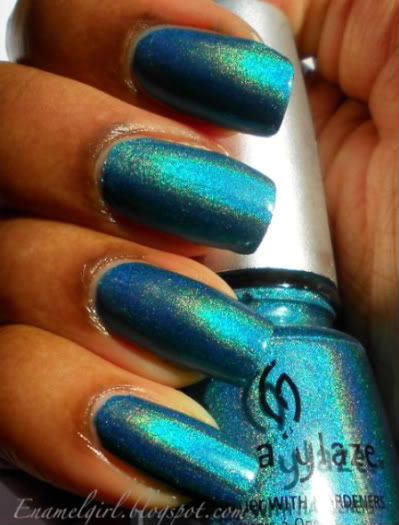 Happy Thursday! Hope you're doing well today and staying cool in the dry heat. It got up to 104 scorching degrees in my town yesterday but luckily we were able to get to the pool. I thought the chlorine would do a doozy on my nails but somehow I emerged with all of my polish intact.
Today I'm sharing one of my first polishes from the China Glaze OMG collection. This collection came out prior to my polish addiction. I've heard that holos have poor coverage, but after 3 coats there were no bald spots, so all is good.
This is my first true holo. For some reason I thought it would feel like silk after it was dry but it didn't lol. I'm really impressed with this finish, I just wish it would look like this out of the sunlight.
In other news, I'm really sad about my return to school. I think most schools begin 2 weeks from now but I go back on Monday :(, I'll try to update my blog at least once a week............. I'm also planning a second giveaway and I'll try to get that up later tonight or tomorrow :)
That's all for now.
Thanks for stopping by!